AdvancED Dom Scripting: Dynamic Web Design Techniques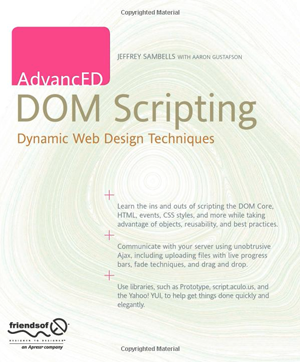 Download the Source, View on Amazon
This book takes your Document Object Model scripting skills to the next level. As a web designer or developer, you know how powerful DOM scripting is for enhancing web applications, adding dynamic functionality, and improving the user experience. This book provides all you need for a deeper understanding of the DOM and how to fully take advantage of its hidden gems.
AdvancED DOM Scripting advocates a standards-compliant approach wherever possible. Broken down into 12 chapters, it begins with a solid foundation in best practices, JavaScript objects, and the W3C DOM standards. You'll then move on to server interaction with Ajax (including bookmark- and back-button-compatible Ajax requests, drag and drop, and progress bars), converting HTML to DOM code, on the fly layout and style changes, interface personalization, productivity improvement via code reuse and APIs, visual effects using JavaScript libraries, and much more.
As you work through each chapter, you'll apply all your newfound knowledge to your own personal DOM scripting library, complete with browser-agnostic and standards-compliant methods. The book includes three case studies–one by JavaScript guru Aaron Gustafson–and a number of easy-to-follow practical examples.
What I really like is that it takes the approach of teaching someone how to write a JavaScript library. Why that is so good is that I think it's important for people to not download any of the major JavaScript libraries, without knowing what it does and why they want that particular one. Web developers need to learn about web browser inconsistencies, different implementations and weird bugs.
I have read many blog posts and several books that try to explain some of the JavaScript concepts that many have a hard time with, like scope, closures, and object oriented programming. I'll openly admit that I was still struggling to really wrap my head around closures, for instance.

Well, after reading AdvancED DOM Scripting I think I finally get it. I guess it's either because I have accumulated enough DOM scripting knowledge to make things 'click', or it's simply because the book's main author, Jeffrey Sambells, manages to explain these concepts in a very understandable way.
DOM Scripting: Web Design with JavaScript and the Document Object Model Second Edition
(I updated the second addition, the awesome Jeremy Keith wrote the original)
Visit the site, Download the Source , View on Amazon
There are three main technologies married together to create usable, standards-compliant web designs: XHTML for data structure, Cascading Style Sheets for styling your data, and JavaScript for adding dynamic effects and manipulating structure on the fly using the Document Object Model. This book is about the latter of the three.
DOM Scripting: Web Design with JavaScript and the Document Object Model gives you everything you need to start using JavaScript and the Document Object Model to enhance your web pages with client-side dynamic effects. We start off by giving you a basic crash course in JavaScript and the DOM, then move on to provide you with several real world examples built up from scratch including dynamic image galleries and dynamic menus, and show you how to manipulate web page styles using the CSS DOM, and create markup on the fly.
New material for this edition includes a run through of the most popular JavaScript libraries and their use.
What you'll learn
Apply dynamic behavior to your pages without inserting JavaScript in your markup.
Write scripts that degrade gracefully when JavaScript isn't available.
Use web standards to ensure cross-browser compatibility.
Harness the power of the DOM to create user-controlled animation.
Also includes an introduction to Ajax.
Who this book is for
This book is for web developers wanting to expand their knowledge of the DOM to add interactivity and functionality to their web pages.
…the second edition gets a thumbs-up from me.
Beginning Google Maps Applications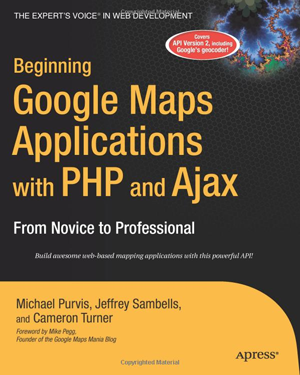 Until recently, building interactive web-based mapping applications has been a cumbersome affair. This changed when Google released its powerful Maps API. Beginning Google Maps Applications with PHP and Ajax was written to help you take advantage of this technology in your own endeavors whether you're an enthusiast playing for fun or a professional building for profit. This book covers version 2 of the API, including Google's new Geocoding service.
Authors Jeffrey Sambells, Cameron Turner, and Michael Purvis get rolling with examples that require hardly any code at all, but you'll quickly become acquainted with many facets of the Maps API. They demonstrate powerful methods for simultaneously plotting large data sets, creating your own map overlays, and harvesting and geocoding sets of addresses. You'll see how to set up alternative tile sets and where to access imagery to use for them. The authors even show you how to build your own geocoder from scratch, for those high-volume batch jobs.
As well as providing hands-on examples of real mapping projects, this book supplies a complete reference for the Maps API, along with the relevant aspects of JavaScript, CSS, PHP, and SQL. Visit the authors' website for additional tips and advice.
There is much to like about this book. The explanations are straightforward, the code is readable, the examples are relevant, and the writing style is approachable.